Microsoft Future Decoded 2018
AI and how maximising that opportunity, could shape technology into an even better place!
I had the pleasure of attending Microsoft's two day FutureDecoded event in London Excel, thanks to Kainos for sending me.
The two days consisted of multiple Keynotes and numerous breakout sessions, in fact over 100 of these!
Day1 opened with a keynote consisting off:
Michael Wignall – Microsoft UK CTO
Cindy Rose – Microsoft UK CEO
Jason Zander – Executive Vice President, Azure
Chris Bishop – Microsoft Research Cambridge
Impressive lineup! Keynote opened and the topic was clear, "AI" and how maximising that opportunity, could shape technology into an even better place!
An impressive figure noted "AI could add £10 trillion pounds to worldwide economy output by 2030"
On top of this, with the cloud presence growing rapidly on a daily basis, "2.5 quadrillion bytes of data" created daily, AI and advanced algorithms will assist in efficient and rapid analysis of this!
Some incredible Azure data centre statistics were shown:
54 Azure regions, that is more than AWS & Google combined!
4500+ peering locations
130+ edge sites
Azure is still the most cost effective cloud for Windows Server & SQL, save up to 82% with combined reserved instances + Azure Hybrid benefit!
"At Microsoft, we aim to empower every person and every organisation on the planet to achieve more. In the case of AI, that means helping UK organisations harness it's potential both successfully and responsibly"
©Cindy Rose – Microsoft UK CEO
To end the keynote, Microsoft AI academy was announced –
aka.ms/learn
for further information.
Breakout sessions attended on day 1:
Real-life technical decision points in using cloud & container technology: Modernising the NHS
Understanding the use of technology trends today
Mind the skills gap: attracting and retaining the critical skills to support your transformation
The first two breakout sessions were technical focused within a number of areas:
containerised environments using AKS and Azure service mesh
automation of these containers
AI
Why use Azure Kerbernetes Server(AKS)?
Microsoft managed
Control plane free of charge
Automated upgrades and patches
Secured and hardened
Easy & auto cluster scaling
Self-healing
When to use AKS?
Want to run Linux based workloads in containers
Wanting to use Kerbernetes but not build & manage the infrastructure
Ability to run modern micro-transactions architectures
Have fine grained control over compute, storage & network
Remain framework, platform & stack agnostic
As mentioned above, the amount of daily data consumed is substantial and cannot just be user manipulated anymore; it require numerous uses of AI to resolve this.
AI trends and opportunities that Azure provide as resources:
Knowledge mining: Azure Cognitive Search
Machine Learning: Azure data bricks, Azure machine learning, Azure AI infrastructure
AI apps & agents: Azure bot service
Along with the AI specific resources, Azure has a number of compute instances that accelerate the deep learning required for AI:
GPU intensive workloads: N Series
CPU intensive workloads: D, F, M, L, H series
FPGA intensive workloads: Project brainwave
With all the Azure services, the below devices can be used as part of this solution – look at the amount of data that is consumed within each device!
My last breakout session was not technical but was interesting to hear how Microsoft were assisting with attracting and retaining the critical skills through their recruitment process along with Adam Donnelly and Rory Hanratty, giving a brief outline of how Kainos attract and retain the critical skills.
Day1 ended with a keynote with Dr Maggie Aderin-Pocock MBE and the legend himself Sir Michael Caine CBE – great story from Maggie along with a fun interview with Michael!
Day2 morning keynote consisted off:
Satya Nadella – Microsoft CEO
Jenny Lay-Flurrie – Microsoft CAO
Rt Hon Esther McVey MP
"Microsoft Mission: Empower every person and every organization on the planet to achieve more."
© Satya Nadella – Microsoft CEO
Another great keynote, with a lot of references to AI and the "intelligent Edge" throughout.
Breakout sessions attending on day 2:
Azure Stack with Leonovo
AI in healthcare: NHS & Microsoft transforming healthcare together by putting the patient at the centre and leading change with AI
Microsoft Optics for the Cloud: How Microsoft Research are re-thinking future Data Centre technology
It was great to hear some use cases by Lenovo where access to the Azure portal is not possible or feasible, where Azure Stack is implemented into the customer's environment to give them an onsite Azure portal with nearly all the features the direct Azure Portal has.
Again, AI being showcased and how it is assisting in healthcare, this was a Q & A session with general questions around AI and how it can be used to assist in healthcare related issues along with a successful use case.
Microsoft research breakout was phenomenal and the research areas discussed included project Silica making storage disks have 10000's of years lifetime – along with the use of cold storage; imagine this became a standard reality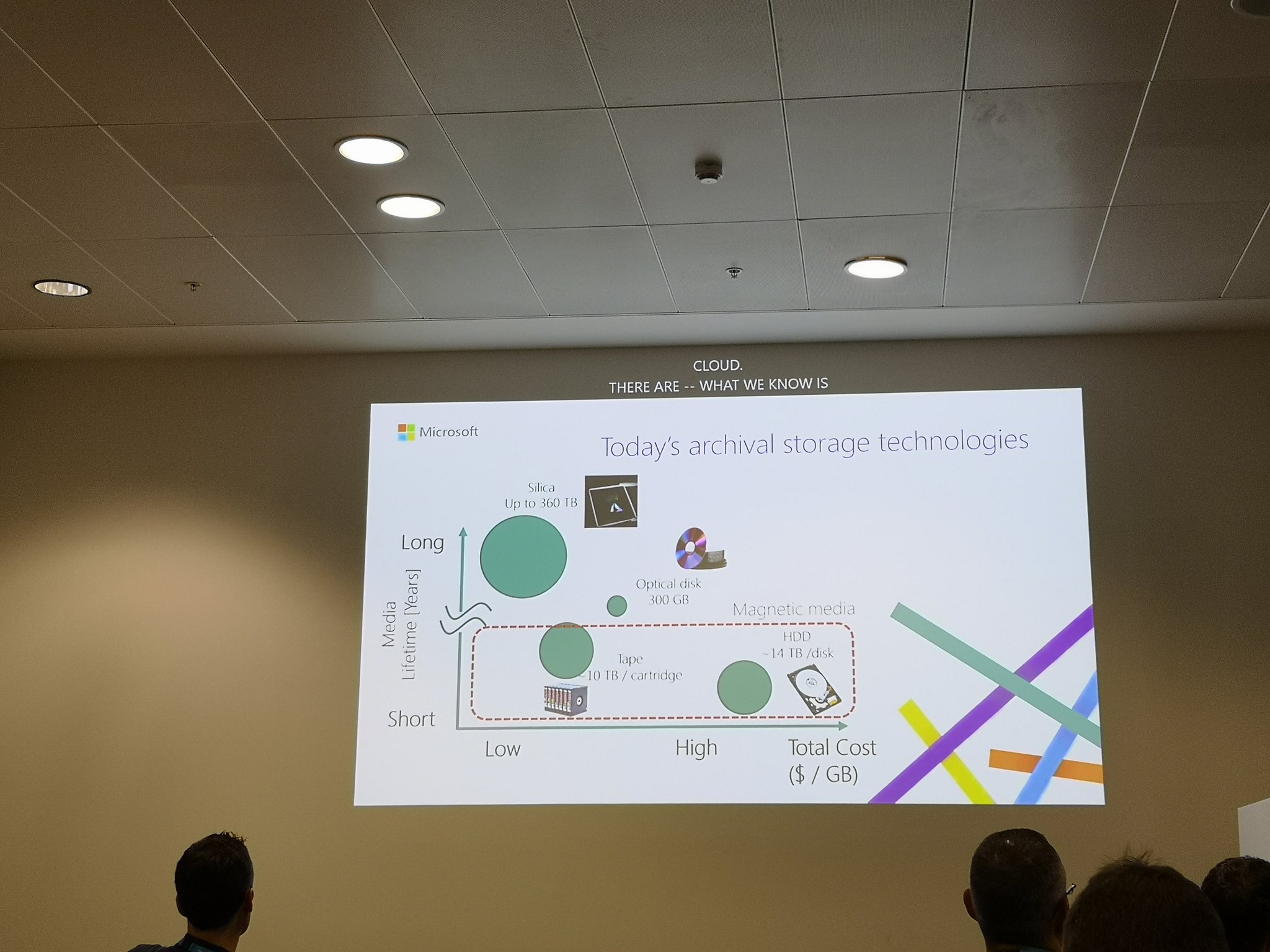 This was the end of my two days attendance at this years Microsoft FutureDecoded, taking away from this is AI, use cases of AI and how AI will be further used within the future of Cloud computing!